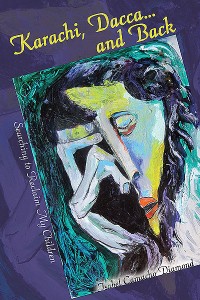 Searching to Reclaim My Children
by Isabel Camacho Diamond

Shocked awake in a strange bed with no knowledge of how she got there, Isabel's abrupt introduction to alcohol and adulthood is only intensified by her consequent marriage and accompanying motherhood. Three years later, after an ultimately unsuccessful attempt to raise two young children on her own, she opts to follow her American-pilot husband to his new job in Iran, hoping that the new location will mean an end to his alcoholism and abuse.
Soon, homemaking in Abadan is interrupted by a brief trip to the U.S. where Isabel must apply for Green Card renewal. She kisses her children good-bye and leaves them with her husband and nanny. On Isabel's trip back to Iran, during a layover in Frankfurt, she is informed that her husband is no longer working for Iran Air, there is no forwarding address  and  no more courtesy airline tickets. Stranded, without any idea of her children's whereabouts, and with no visa and little money, Isabel resorts to waiting tables at the flight crew-frequented hotel where she is staying.
In time word comes from other pilots that he is working in Pakistan. With the help of a new friend and a borrowed stewardess uniform she travels to Karachi and rejoins her eager children and reluctant husband. Following a period of normal family life, including moves to Dacca and back, he suddenly departs with the children, leaving her abandoned. "I cried quietly as the rickshaw gently rocked through the city, the Karachi streets still bustling with people at this hour," she recalls, seeking a safe shelter. "I had no money, no plans, no family or friends to turn to, and no assurance that tomorrow might be better."
But things do get better. That evening, favored by universal energies, she meets Jean Claude Donzé, which sparks not only an intense romance, but serves as the beginning of Isabel's journey through eight cities and five countries to finally discover her children ensconced in a New York orphanage. Unfortunately, this is only half the battle. She then faces the challenge of regaining custody and providing for them as a single mother. This story paints the portrait of a mother's love and the perseverance it took to reclaim her children.